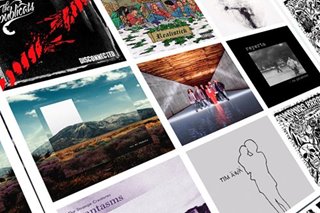 2018 offered a number of reasons to love and appreciate the independent and underground music scene.
You have to love and appreciate the independent and underground music scene. Bands and artists continue to put out products on a variety of formats — streaming and downloads, vinyl, cassette, and compact disc. And it isn't only here in the Philippines, but also abroad.
We have compiled what we believe to be are the best releases of 2018. They are listed in no particular order.
"Realistick" — Stick Figgas (compact disc)
With a full band (made up of stalwarts from different crews who perform diverse styles of music) and the added voice of Kat Agarrado, this feels like when the late Francis Magalona partnered with Hardware Syndrome to produce "Freeman." The full band allows for a richer and fuller sound with an edge. And Agarrado adds a lot of soul to the songs.
As such, Realistick is lightning in a bottle filled with memorable tunes, tight grooves, and sick rhymes.
"Terror Prone Nation" — Material Support (cassette)
Angry punk rock from this Fil-American band out of San Francisco. They make no bones about their politics and while I may not agree with all their views, I still say it is one helluva an album.
It is punk rock but the slick production and deft musicianship makes it easier to listen to appreciate their music and message.
It is said during times of political upheaval, bands tend to write great songs (protest or otherwise). If you go for the latter, Material Support have made their case.
Stomachine (streaming/downloads)
The self-titled debut of a band that makes no apologies for their love of Fil-American band, +/- (or Plus Minus as they are known by). They aren't mere copycats as they put their own stamp with winsome harmonies and the occasional deft instrumental. A buoyant album. Now, if they only came out with this on proper compact disc or vinyl.
"Why Must Everything Involve Politics" — Betrayed (compact disc)
The first two albums of Betrayed had a marked hardcore influence. In fact, three decades later, there — I can still hear traces of the Damned, GHB, even Rancid — but the band doesn't forsake any melody for a mindless sonic assault. Although the band isn't particularly overt with their song messages, they remain pointed and ask you to make your own conclusions.
They may not be as fiery as before but boy do they still rage.
"All My Friends" — Tide/Edit (compact disc)
An album that sparkles in the rain. A spontaneous combustion of joy, flights of fancy, and raw emotion. Play this on a long drive with the wind in your face and hair. You'll feel glad to be alive.
"No Palabras" — Reyerta (cassette)
A brutally short album. Forget lyrical poignancy. This type of extreme music (power violence) eschews that. "No Palabras" features eight angry songs that question and declare one's independence of the world that suffocates them into indifference and silence.
The blistering pace aside, this Spanish-Filipino (two are Spaniards — the singer and the drummer — while the guitarist and bassist are Filipinos) band deliver a more powerful and focused album versus their self-titled debut. Savor this because we aren't sure when they'll get around to recording again (as I am told their Spanish contingent has returned to the Iberian Peninsula).
"Residuals" — Tiger Pussy (compact disc)
The debut from this Cebu-based quarter has this urgent feel to it; sexual tension even. What makes Tiger Pussy standout in a sea of similar female-fronted agro bands is lead singer Jan Sunday's vocal delivery. There is even an artistry. Even the music doesn't punish you, but infects you to bop and pogo.
"Disconnected" — The Republicats (compact disc)
Sing-song punk rock, à la the Interrupters and Rancid. The Republicats know how to have fun while not losing the angsty part of punk. A totally rollicking debut.
"Full Flood" — Apartel (streaming, 12-inch vinyl)
No sophomore slump for this soul funk band. "Full Flood" finds Apartel discovering their inner groove; adding a disco beat for an album that reminds one of the best of the Manila Sound of the 1970s albeit with a modern touch. A masterpiece from start to finish.
Tim Äwä (cassette, compact disc)
In the male-dominated post-rock scene, Tim Äwä — aka by the exotically named Zehpra Theodosha Lagos — released a sparkling EP. The difference is Tim Äwä's ethereal and siren-like vocals add a feathery and haunting touch to the stirring music. Think of Clare Torry on Pink Floyd's classic, "The Great Gig in the Sky." Except it isn't the wailing sort but more ethereal; a toned-down Elisabeth Fraser of the Cocteau Twins if you will.
"Timelapse" — Sandwich (7-inch vinyl)
These alt-rockers have come a long way from their Beastie Boy and Foo Fighters roots. "Timelapse," released during the band's 20th anniversary show, finds the band performing what is surely another classic (about a long distance love affair and the yearning that comes with it) wrapped in a post-rock/shoegaze vibe.
Then in the B-Side, the band shows they've not lost their sense of humor with the song, "Parang Wala Nangyari."
In one single, the band echoes the past ("Parang Wala Nangyari") and teases the future ("Timelapse"). Brilliant. Plus, it is on lime green vinyl.
"Lazarus" — Legarda (split vinyl 7-inch single with Boston Band The Saddest Landscape)
When I first heard "Lazarus" from post-rock band Legarda, I thought of the Patti Smith Group which I am a huge fan since I first heard a kid. And I love the spoken word song "Lazarus" that builds to a mighty crescendo. This version was recorded live at Mow's when Legarda opened for Boston-based band, The Saddest Landscape who spare nothing on the emotional front.
The result is a split single of epic proportions. And what adds to its myth is only 50 copies were pressed! Making it a sought after record.
Pilipinas Hardcore (7-inch vinyl)
A heavyweight EP of four of the best underground hardcore bands right now. And it's the first time on vinyl for Barred, Badmouth, and XFortressX (as Veils has previously appeared in their own EP). You know the expression, "walang tapon"? This is it. And if this is your entry into Filipino hardcore then what a way to get exposed. An EP to pound you into submission.
And just how well was this received? According to Veils' vocalist and underground record label Still Ill impresario Dangie Regala, there will be a Pilipinas Hardcore 2 coming our way next year!
"Phantasms" — The Strange Creatures (compact disc, 12-inch vinyl)
A sterling debut of sumptuous dream pop. They sometimes stray from the formula, but overall a very good and ethereal offering.
"Viletin" — The Ringmaster (compact disc)
A shimmering second solo outing from the Sleepwalk Circus' main man that is also a feast for the eyes with the lovely art work in the booklet that comes with the album. You must put everything aside to take in the dense layers of deep prose and intricate and lush music. What sets the Ringmaster's brand of dream pop apart from its peers is if others take you to different sonic landscapes and flights of fancy, with Lorenzo, it's like providing music to Antoine de Saint-Exupery, Neil Gaiman, and Peter S. Beagle to name but a few.
"Day-Blind Stars" — Narcloudia (compact disc)
After their spellbinding debut EP, "Sky Spectre," the three-piece female dream pop band, Narcloudia returns — I hate to use the term "mature" but it is — with a full-length album, "Day-Blind Stars" that is infused with a mélange of punk energy and the exoticism of the Cocteau Twins and Lush that builds on the band's earlier Siouxsie and the Banshees influence.
Reach for the stars with Narcloudia.
"Hanopology" — Mike Hanopol (compact disc)
Mike Hanopol is best known for his solo work as is his music with the Juan Dela Cruz Band and Hagibis. While his old songs — classics, please — may sound dated, even to the point of being sappy and overly simple, his newer works, still wrought with classic rock in mind, show a depth to the man.
"Like There Is No Tomorrow" — Dok Sergio
One of the surprise releases of the year. Dok Sergio — who used to be with Pupil and is now with Prank Sinatra — has crafted a brilliant solo effort where he plays almost all the instruments. The result is an indie gem!