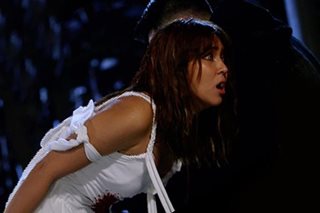 And so "La Luna Sangre" ends, as many viewers might have suspected, in love prevailing over evil.
And so "La Luna Sangre" ends, as many viewers might have suspected, in love prevailing over evil.
The joy of watching Tristan (Daniel Padilla) and Malia (Kathryn Bernardo) hold hands as they defeated Sandrino (Richard Gutierrez) in Friday's episode certainly adds weight to the idea the show has been pushing in its final weeks: that rare is a thing more powerful than a heart that beats for someone.
In the climactic battle, fans saw Sandrino stab his brother Tristan and Malia through their chests. His fatal mistake: not ripping their hearts out when he had the chance. A blinding light flashed as Tristan and Malia clutched each other's hands, tossing Sandrino back and ending his life.
Left on the ground was his other self --the human side of him if you will, the one capable of reason. The showrunners went for a big emotional impact and gave Tristan's dying brother a moment to tell him: "Mahal kita, kapatid ko."
Still, it's a fantasy and some things might be better left to the imagination, discussion boards powered by fan theories, or the book that the show will be releasing as part of an "Untold Saga" series.
The non-reveal did allow them to tell a straightforward finale, with an interesting notion about finding humanity in monstrosity, and vice versa.
As Malia muses before the credits rolled: "Hangga't may naghahangad ng masama sa kapwa, mapa-tao, lobo, o bampira --hindi matatapos ang kalbaryo ng buhay."
In what has proven be something of a typical move, Wednesday's "La Luna Sangre" drops another major clue to support the long-standing theory that Jacintha was indeed Malia (Kathryn Bernardo) from the future only to hide behind vagueness.
Thus fans are again left wondering if Malia's transformation into a vampire is the confirmation they have been waiting for all along.
Driven by her desire to defeat the evil Sandrino (Richard Gutierrez) after witnessing his cruelty, Malia runs out into an open field at night and desperately pleads to the moon for strength.
Angel Locsin's Jacintha and Kathryn Bernardo's Malia share uncanny features such as eye color. Photo credit: Star Creatives
As fans know, Jacintha also shares the blood of both clans. Sans Malia, no other character in the "Moonstone" trilogy has these.
If this was the "reveal" the episode's hashtag suggested to be the "last" ahead of the show's finale on Friday, it is still worth noting that nothing has been set in stone just yet.
READ: What was Angel's purpose? Kathryn answers popular 'La Luna' theory
All clues appear to pointing to that fact, however, as was telegraphed a few episodes back when Jacintha's face was overlaid with Bernardo's features before she disappeared.
Only time will tell (2 episodes left) if Jacintha, who traveled back in time to prevent a grim future overrun by vampires, and Malia are the same person --hopefully in a manner that will be brighter than a full moon on a clear night.