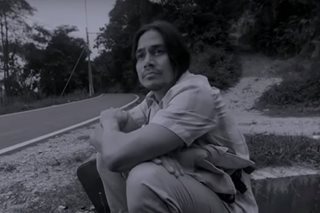 Two years after the Berlinale triumph of "Hele sa Hiwagang Hapis," director Lav Diaz and actor Piolo Pascual are returning to the prestigious event, this time with a shorter film and a different genre
After 'Hele,' Piolo, Lav return to Berlinale with 'Halimaw'
Two years after the Berlinale triumph of "Hele sa Hiwagang Hapis," director Lav Diaz and actor Piolo Pascual are returning to the prestigious event, this time with a shorter film and a different genre.
Pascual, 41, departed for the German capital early Monday ahead of the world premiere of "Ang Panahon ng Halimaw" on February 20, and the awards ceremony on February 24.
Watch more in iWantv or TFC.tv
"Halimaw" is one of the 23 international films in the main competition -- a déjà vu of sorts for both Pascual and Diaz, whose last collaboration, "Hele," won a Silver Bear (Alfred Bauer Prize) in the same festival in 2016.
While "Hele" was a period fantasy with an eight-hour running time, "Halimaw" is far shorter and is an all-acapella, rock musical about a man (Pascual) in search of his disappeared wife (Shaina Magdayao).
"It's timely sa nangyayari sa paligid natin," Pascual told ABS-CBN News' Anjo Bagaoisan shortly before his Berlin flight. "The topic is kind of sensitive politically, pero as a filmmaker, as an artist, it's our job to give justice to what's given us."
NO SECOND TAKE
The world premiere of "Halimaw" on Tuesday will be the first time Pascual and his co-actors will see the entire film, which he described as one of his most challenging projects in his 25-year career.
The film was partly shot in Malaysia, enabling the cast to concentrate on their roles for a week without distractions. This was important, Pascual said, noting that Diaz's process as a director is filming only one take of any scene. There was no room for mistake.
Pascual explained: "One thing I realized is that you have to do your homework. You see everyone trying to study their lines because everything is take one. Everything you do on the first take, iyon na 'yun. You have to be on your toes. You have to know your role, you have to know your character, you have to know the journey, you have to know the story.
"Pag nagkamali ka, usually uulit. E, hindi nag-uulit si Direk Lav. Sobra 'yung pressure, sobra 'yung pressure. It was a fun experience. It was a study. Para kaming bumalik sa school lahat. We had to give our best kasi hindi na inuulit."
'ANOTHER MASTERPIECE'
The extra challenge for Pascual, as well as for his onscreen wife Magdayao, was sharing the screen with stage veterans like Pinky Amador, Bart Guingona, and Bituin Escalante, among others. While Pascual is a recording artist, he pointed out he doesn't have as much experience as a number of his co-stars when it comes to sung dialogue.
Berlin-bound Pinky Amador elated over 'project of a lifetime'
Referring to Diaz, Pascual said: "We would get studies from him through e-mail, and siya mismo nag-compose nung mga kanta. Ang hirap for us, kasi for the whole movie, kumakanta kami, pero acapella. [Challenging] to be in tune, kasi wala kaming accompaniment na instrumento, kami-kami lang. At first, lahat kami jittery."
Despite his initial apprehensions about the demands of the role, Pascual is confident that with Diaz's guidance, the cast managed to give justice to the material the filmmaker had created.
"Napakaganda ng mga lines ni Lav, napakaganda ng mga tono niya, napakasakit, napaka-bigat, kaya nakakahiya pag hindi mo inayos, hindi mo ginalingan... Expect a different Lav once again. Brilliant mind. It's another masterpiece from Lav Diaz," he said.
Asked what his hopes are in returning to the Berlin International Film Festival, Pascual said another trophy for Diaz, the film, or any of his co-actors would be welcome.
"It's to give glory to Philippine cinema," he added. "Just to compete, just to be invited, is an honor enough for us. It's enough recognition, na madala natin ang flag natin sa Berlin."